The Only Buyer's Guide You'll Ever Need
As one of the softest and warmest floor coverings, carpets are a sought-after flooring choice in many Australian homes. Wildly popular in bedrooms, staircases and home offices, among other areas, they are favoured for their sound-reducing properties and luxurious feeling underfoot. They're also a safe choice, given their ability to mitigate injuries from slips and falls. Thus, offering the perfect solution for busy families with children. Get to know your carpet flooring today. Read on.
A thick, heavy, yet soft flooring solution for your spaces. Typically composed of natural fibres like sheep and yak wool or synthetic options like nylon, solution-dyed nylon (SDN), polyester and polypropylene. What you see on the upper layer is a pile (suggesting fibre density) attached to a backing (the bottom material at the back of the carpet). With technology advancing, today's carpets are also non-slip, fade and stain resistant – making them incredibly easy to clean and maintain.
The advantages of carpet flooring
Choose from an abundant array of colour options. Plus, an extensive range of textures so you can pick one that aligns best with your room's interior style.

Create a more comforting indoor environment with a carpet's insulating properties. This means you'll be able to effectively keep excessive heat, or cold drafts from seeping through the floors, reducing your utility bills.

Let's not forget carpets create quieter spaces. With superior acoustic properties, they're ideal for diminishing sound from walking and furniture movement.

Reduce falls with anti-slip carpets. Even in the event of a slip or trip, a softer landing reduces the impact of the fall.
Which carpet fibre is the best?
Choose a fibre based on the amount of footfall your room has to endure. For instance, treat yourself to luxury with a softer pile carpet that'll stand up to bare feet or slippers in the bedroom. Alternatively, look for a dense, tight, low pile tufted carpet for high traffic areas like the living or dining rooms.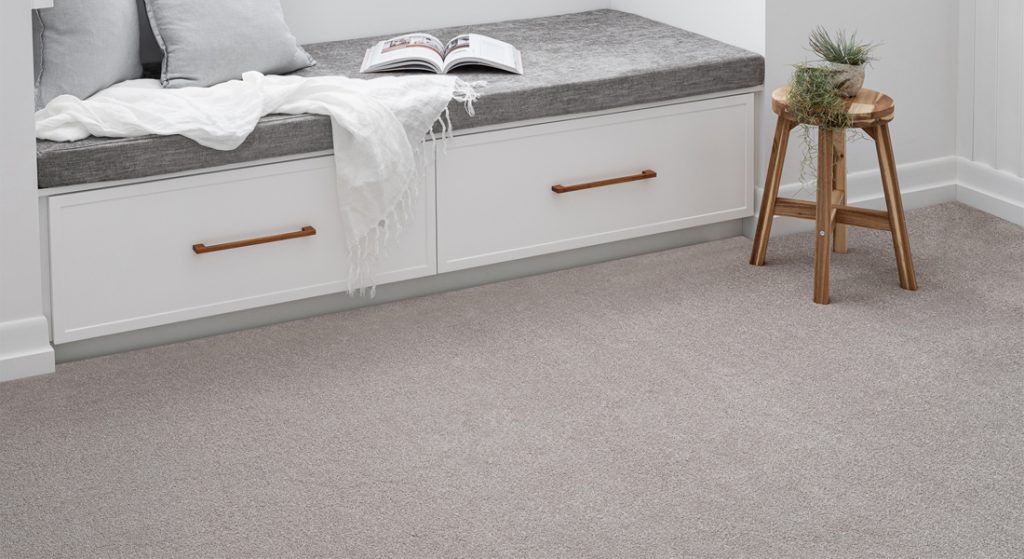 Charmeuse nylon carpet from Cashmere Touch
So, what are your fibre options?

Synthetic
Synthetic fibres include white nylon (Signature's Colour Guard® nylon) and SDN, which now offer buyers some of the softest and most luxurious carpets in the market.  Signature's gorgeous Cashmere Touch range, for instance, provides you with the finest selection of white nylon, while LuxCloud is an SDN range. In the former, fibres are dyed after the carpet has been made. The latter on the other hand, adds colour to the fibre while in liquid form. That's why SDN has colour all the way through it. It's also why these carpets deliver long-lasting vibrancy. That said, Colour Guard® treated white nylon carpets also boast enhanced colour longevity, especially when exposed to heat and light. 
With Signature's nylon carpets, once you touch them, it's hard to take your hand away. Intuitively it makes you think, "soft = not strong" however, this is not the case. All nylons are made using a thin or fine denier of yarn. And, with more thread per square inch, the yarn is automatically rendered durable and strong.
Plus, carpets are stain, soil and fade resistant. Nylons also offer extensive colour options; however, white nylon provides brighter and sharper colours due to their dyeing methodology. Nylon carpets clean well (wet cleaning is possible) as the fibres don't absorb water like wool.
If you're looking for something robust, stain and fade resistant for spaces like pool areas, boats or caravans, polypropylene carpets like Signature's Needlepunch carpets could offer a fitting solution. This family-friendly fibre is great for the indoors and outdoors.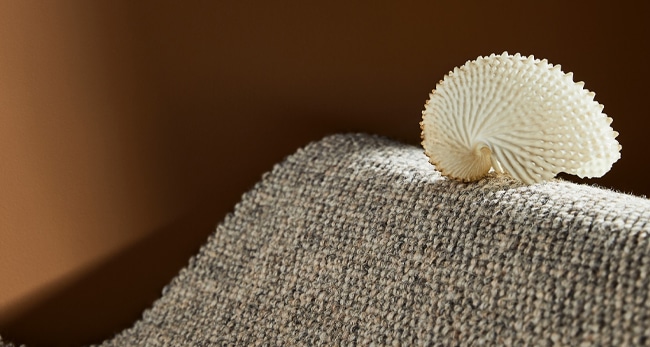 Signature Wool textures
If you're leaning towards natural fibres – options in the market include sheep wool, yak wool, sisal, jute and coir. However, one of the most popular options, and our favourite at Signature, is natural wool. Wool is tactile and textured and offers heaps of insulation benefits. It means your home feels cooler in summer but warm in winter. Wool can also absorb or release up to 30% of its weight in moisture without feeling wet. These properties keep your indoor spaces feeling warm and dry. 
Some of our ranges, like Brit & Jaro, also utilise Yak hair along with a blend of the best wools from across the world to make an aesthetically pleasing product to suit every home.
Wool carpets are naturally fire-resistant. Also, with the right kind of maintenance, they will age gracefully and last you a lifetime. As a renewable and biodegradable fibre, wool is kind on the planet. It repels stains naturally. Wool carpeting also traps airborne dust in its fibres until its vacuumed, reducing allergy triggers. The issue of indoor air pollution often stems from volatile organic compounds (VOCs), emitted by furnishings and finishings. With detrimental and damaging health effects, VOCs are simply bad news. In this instance, wool naturally binds and neutralises these VOCs. 
What carpet do I need?

There are three main carpet styles – twist/cut, loop and plush.
Nylon ranges come in two tufted constructions – cut/twist or plush piles. The yarn is twisted together in a cut/twist pile. This gives the carpet a slightly textured appearance which also makes it hard-wearing. On the other hand, a plush pile carpet has the yarn standing up, which offers a luxurious look. Broadly speaking, plush pile carpets will show shading and tracking marks from footprints or vacuuming. This makes it an excellent choice for low-traffic areas like bedrooms. In loop pile carpets, the fibres are formed into loops and stuck to the backing. It's what lends it durability but also helps hide dirt easily. Loop pile carpets like the Signature wools range typically offer a smoother surface.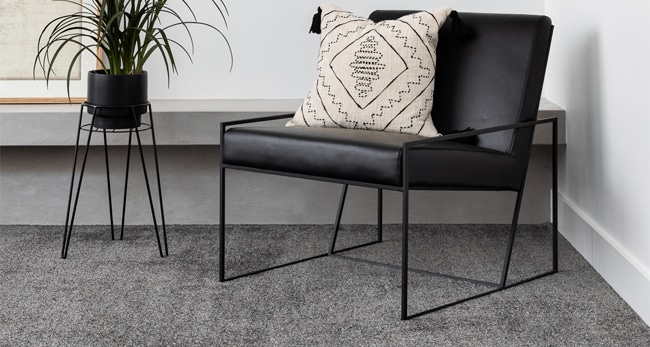 Sensation carpet from Cashmere Touch
How to maintain my carpet flooring?

It's easy to keep carpets looking fresh during use. Vacuuming frequently and thoroughly, particularly in high traffic areas, can prolong your carpet's life but also enhance its appearance.

 Also, periodic maintenance by a professional cleaner, preferably every 12-18 months will improve your carpet's longevity. This applies to all carpets, including wool and non-wool fibres.

Attend to spills and stains as quickly as possible. With regular maintenance, a quality carpet will serve you well. 

 Which carpet colour is the best?
Choose a colour that suits the mood and tone of your room. Neutrals work well in most rooms. They'll anchor your room's design without taking away attention from the things you're looking to highlight in the space. Lighter colours can make small bedrooms feel more expansive. Dark carpets in the dining room, for instance, could hide accidental spills and make a large room feel cosier. Ideal if you're looking to inject a hint of moodiness and luxury. 

Boden Crosbie Signature Wool
What else should I keep in mind?


Read on for the carpet buying checklist


Identify low and high-traffic areas in your home. This will help you determine the type of carpet best suited for your space.

Carpets are star-rated to define their suitability in residential properties. So, the more stars, the better the carpet's quality.  

Also, think about practicality and maintenance. With pets and young children, for instance, you could be aiming for options like Signature Wools,

Country Wools

or the Luxe range. 

If you're looking to install carpets in sunny bedrooms or lounges, a choice of SDN or Signature's Colour Guard® (white) nylon could offer a fitting solution from UV damage and fading

To understand density, firmly press your thumb on the pile. When you take your finger off, observe how quickly the fibres spring back and recover. The quicker it does this, the denser the carpet is. 

Another way to gauge density is by reviewing how closely knitted each fibre is to another. Flip the material around to see how much space exists between the tufts. The bigger the gap, the faster the carpet loses its resilience

Review samples before making a purchase. Opt for the free sample service on our website, or ask our partner stockists and retailers to provide you with some. 

Place the sample in your room to understand how natural light affects its colour and appearance. 

We recommend dark carpet colours in well-trodden spaces, while a lighter shade is perfect for bedrooms.

And lastly, don't forget to do a rough estimate of how much carpet you'll need before you decide to shop around. This will help you narrow down your search. But also give you an idea of pricing. 
Start your carpet flooring journey with Signature today. Navigate to Products -> Carpet -> All Collections tab to view all our carpet options. Alternatively, browse by material: wool, nylon (Colour Guard), SDN or polypropylene.  To see them in your room, navigate to the Floor Visualiser. Lastly, order a sample or contact your nearest flooring retailer using our online store locator service, if you're looking to place an order.