Four reasons to select vinyl plank flooring in wet areas
Bathrooms and wet areas like laundries are not only at the receiving end of heavy foot traffic and endless wear and tear – they're also subject to constant moisture exposure. This means bathroom floors need to be resilient, easy to clean, but also waterproof. That's why vinyl plank flooring tops our list of must-haves in your bathroom. Not convinced? Here are four reasons to lay them stress-free in your wet areas.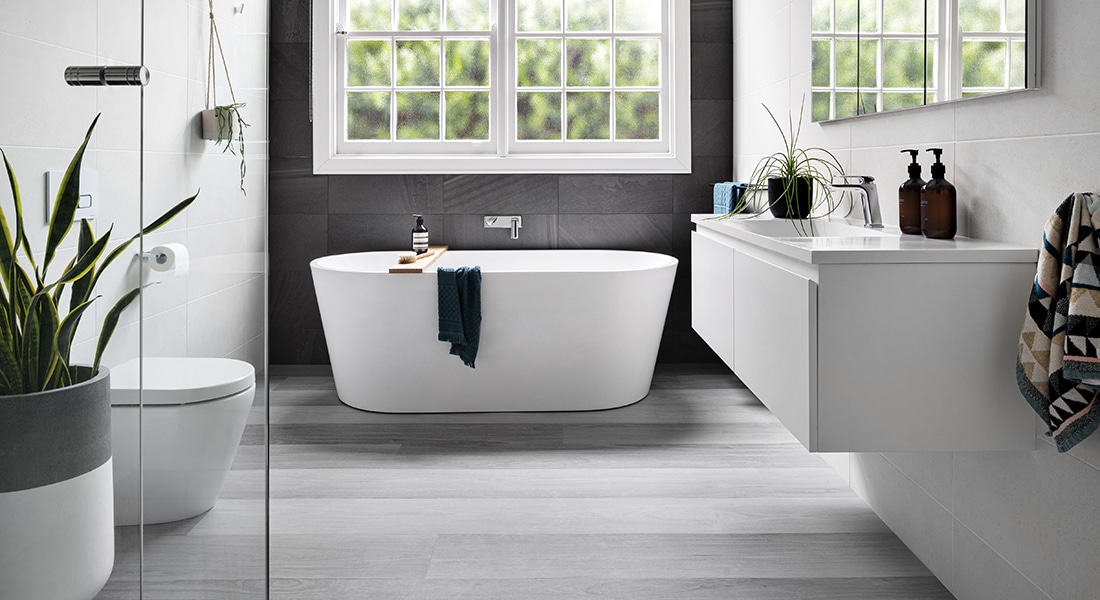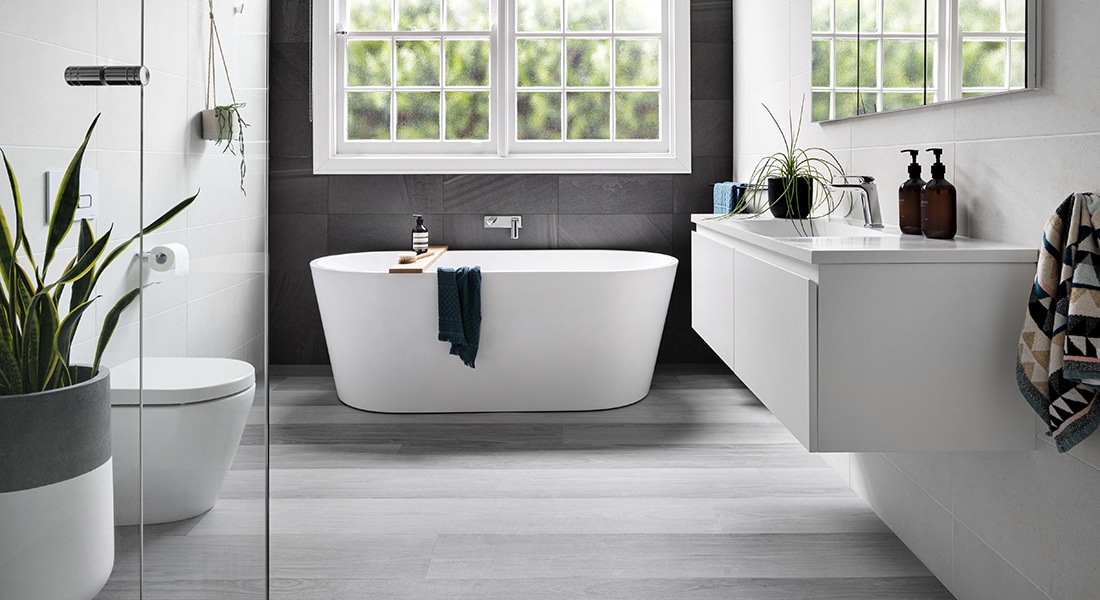 100% waterproof  
Yes, you read that right. Vinyl bathroom flooring is 100% waterproof, ensuring spills and humidity have no damaging effect on your floors. This is because, the material does not inherently absorb moisture, ensuring you can stop worrying about planks warping or swelling. Apart from your bathrooms and laundry, vinyl flooring also makes for a suitable addition to the kitchen.
Soft underfoot
As a resilient flooring material – vinyl bathroom floors tends to absorb the room's ambient heat better than ceramic tiles. It's why vinyl doesn't get cold in winter. This makes the floor softer and comforting to step on without shoes.  Looking for more comfort? Did you know Signature's vinyl planks are also compatible with underfloor heating?
Slip-resistant
All Signature vinyl planks are slip-resistant, making them an excellent choice for bathrooms. This automatically translates to a better grip for your feet, especially after a bath or shower.
Hassle-free maintenance
This luxury flooring solution is also child and pet-friendly flooring. This makes it a breeze to maintain, irrespective of where you've installed it. As a hardwearing and waterproof material – it works exceptionally well in bathrooms. What's more, the floors also resist chipping, staining and scratching – so you never need to worry, if the outdoors come inside. Maintenance of your vinyl planks is as simple as sweeping, vacuuming or mopping.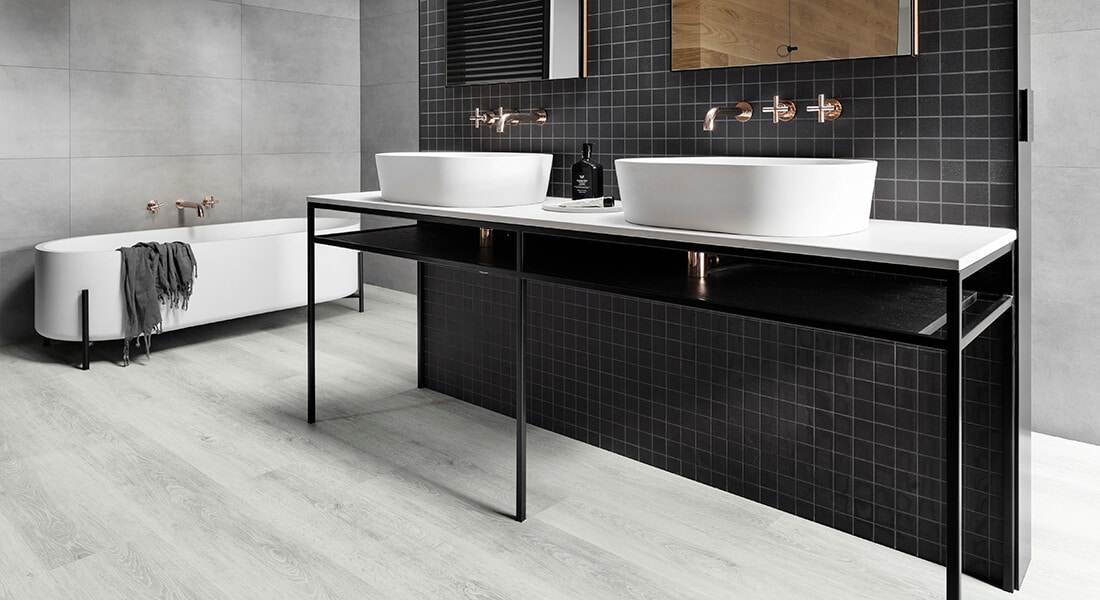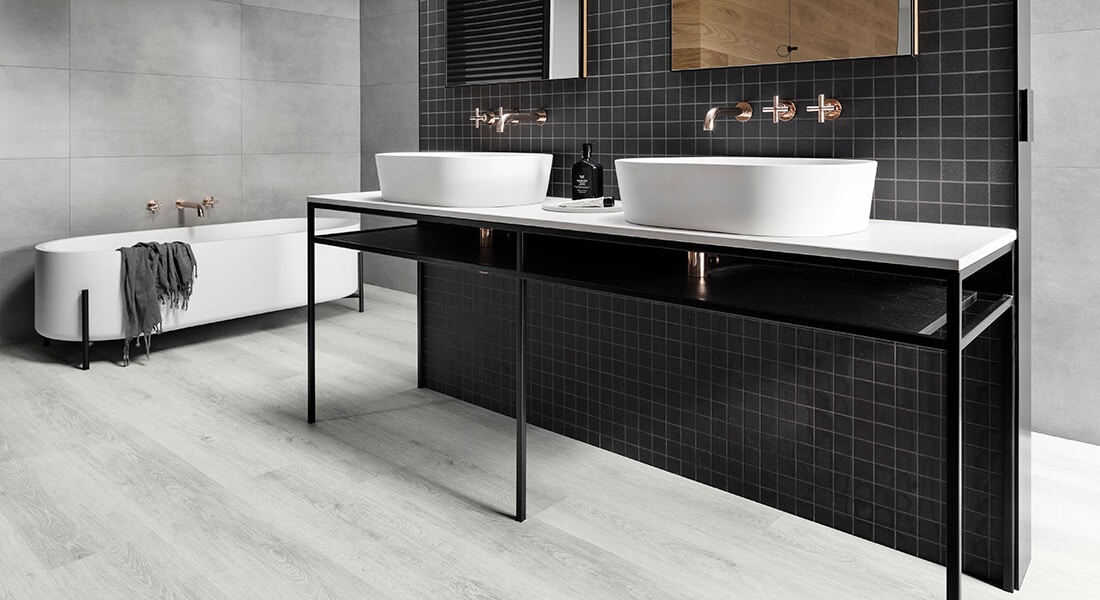 A case for sheet vinyl
In addition to vinyl planks, you could also consider sheet vinyl as an affordable and designer alternative for your wet areas. Made in large sheets, Signature's sheet vinyl collections are available in a range of timber and stone designs and all over patterns. Like their plank counterparts, sheet vinyl feels soft and cushiony underfoot. They're also moisture-resistant. The flooring surface offers an easy maintenance routine without you having to worry about floor damage from mopping. Since sheet vinyl is so quick and easy to install, they're excellent for renovations or investment homes.
For a seamless look and feel, we recommend laying vinyl planks throughout your home.  Now imbue your private haven with timber and stone's elegance by exploring Signature's vinyl plank flooring collections.  If you're looking to maintain your home's sustainability, also check out our GreenTag Green Rate Level A certified collections. Finally, find flooring near you using Signature's Store Locator. Discover local retailers who stock your choice of flooring today.