Vivid 202 carpet tile launch media coverage
---
24 August 2021
News
Featured on Yellow Trace, Australian Design Review and Architecture & Design
Since Vivid 202's colour carpet tile launch – Signature Floors has received a lot of love from the Australian design media. These leading publications include Yellow Trace, Architecture & Design, as well as Australian Design Review. While the articles champion the range's colour story, they also allude to the collection's four key pillars – flexibility, sustainability, availability and colourability.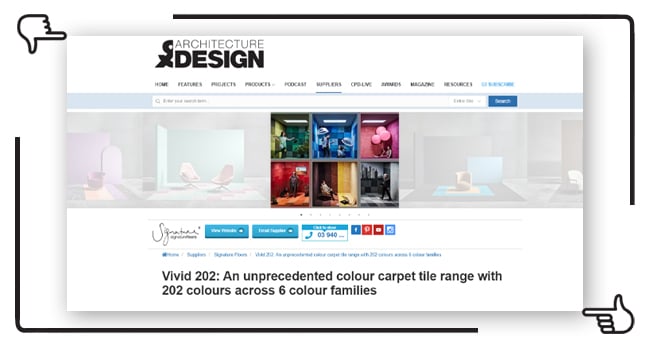 A few key messages from these publications that describe the Vivid 202 colour carpet tile launch perfectly,
"With 202 colours across six colour families, the new Vivid 202 collection from Signature seeks to transform spaces, places and people."
"Kaleidoscopic, rich and varied, this stunning palette is inspired by our beautiful complex world."
"Vivid 202 provides the perfect tool to create subtle shifts, dazzling contrasts and everything in between. Combine and refine all with the peace of mind that products are available, in stock and ready to go."
"The collection also has GreenRate Level A certification from Global Greentag. And, its Comfi Bak cushion backing is made from 100 per cent recycled PET bottles."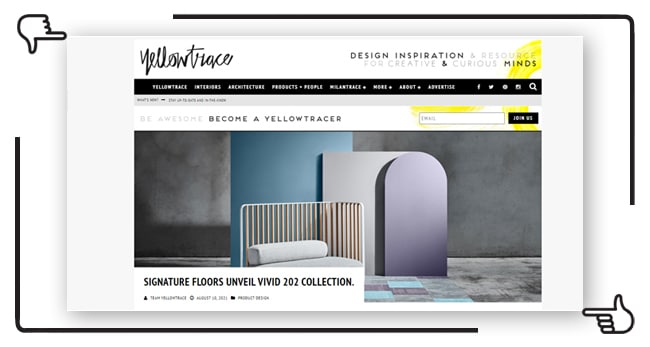 About Vivid 202 colour carpet tiles
Vivid 202 is Signature Floors' unprecedented range of colour carpet tiles. With 202 colours across 6 colour families, Vivid offers you, our customers, the largest stocked carpet tile selection in the market. Now, experience kaleidoscopic colour variety and endless flooring choices. The range also allows you flexibility and freedom of choice to explore creative layouts in projects. You could select your favourite highlight colour for custom combinations with minimum order quantities of 50 m2. Or, mix and match between our stocked collections. Additionally, use in conjunction with vinyl plank flooring or vinyl floor tiles. Vivid 202 colour carpet tiles are also available in 10 Shapes® by Signature. These locally-developed floor coverings allow for shorter lead times, taking projects from planning to delivery seamlessly. They also help maintain your project's sustainability with a Green Rate Level A certification from Global Green Tag.
Explore Vivid 202 for your projects by ordering a sample today. And, catch up on all the latest Vivid coverage on Australian Design Review, Yellow Trace and Architecture & Design.