Gaining competitive advantage in the long-term
Christopher Pullin, Director – Projects (Interiors) at WMK Architecture sheds light on the evolving workplace model. He waxes eloquent on the value of experience design and the importance of flooring in not just conceptual translation, but also in functional and notional space definition.
On the business and workplace model post-pandemic
In the current climate, the increase in uncertainty has been exponential. Given the times, most companies and organisations will go with one of two things. Either stick with the status quo of workplace design or choose an option that provides the most flexibility to account for potential change. We have found some major clients that have scaled back, not shelved plans for larger workplaces. This is because working from home (WFH) is definitively part of the new normal. WFH is here to stay to a larger extent than pre-COVID. It's not ubiquitous, though. For instance, some industries post-COVID may remain largely unchanged in day-to-day operations. But, at the other end of the spectrum, some industries have already embraced a majority WFH model.
With occupancy rates decreasing from 60-80% to as low as 40-50% (or lower), there may be less emphasis on providing so many full-time ergonomic (or long-term) work points in a new fitout. As a result of these dichotomous approaches, we've seen some workplaces generate quite high density, compact and efficient spaces. Thus, creating a close-knit intense work environment, potentially as a contrast to the home. Others have used the space to provide additional areas for collaboration and human connection. The past decade has seen the typical workplace 'breakout space' moving from the far corner to the reception. Now, it might even be centralised, incorporated with casual work points, open to the workplace and connected to the front of the house. Thus, encouraging a pervading casual work style that suits your task. All while, inviting a blurring of work, collaboration, eating and socialising.
Design collaborative workplaces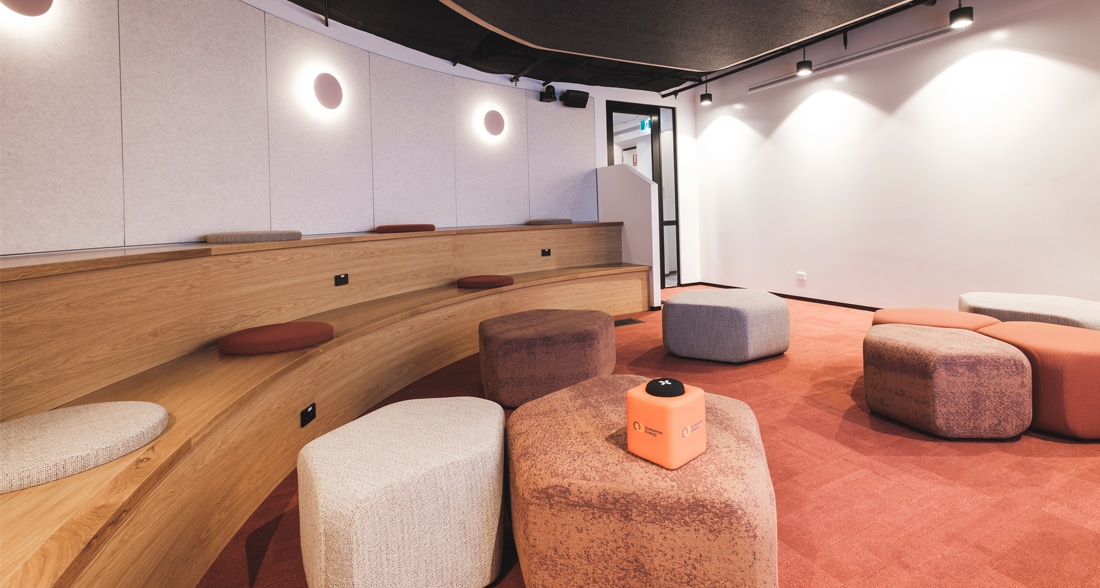 Endeavour Energy Workplace by WMK Architecture. Flooring: Vivid Carpet Tiles Photography: Raw Life Studios
The role of workplace design in attracting and retaining the best talent
There's no question it's a "seller's market" now. Youth unemployment is at a record low, and it's difficult to find good people that are looking for opportunities, for many reasons, and they all relate to the pandemic. Workplace design is important to attract talent, but only if it understands, enables, and accurately reflects a healthy culture. The business, culture, brand and behaviour provide the meaning and design. Without meaning, it's just window dressing. The role of design is thus, to understand and physically manifest the overarching corporate strategy, along with the accompanying workplace strategy, then complete the design and construction.
What do employees and managers seek from their work environments today?
The answer for this is highly varied and completely individual. To give a range, I feel some people will look for high performance, focused corporate workplaces. This will serve to act as a foil for their home environment. Some, for instance, will be after open, light, collaborative spaces, providing an incentive to come into work, to reduce the endless Teams/Zoom calls. Some might also want to continue the creeping of 'resimercial' design into workplaces to make them even more homely and ensure people have something human and familiar to return to. Other companies will look to provide facilities to enable specific training programs, spaces for ideation and innovative workshops as well as team bonding and embedding corporate culture within the new staff, and change management as companies pivot and shift focus in sectors or propositions.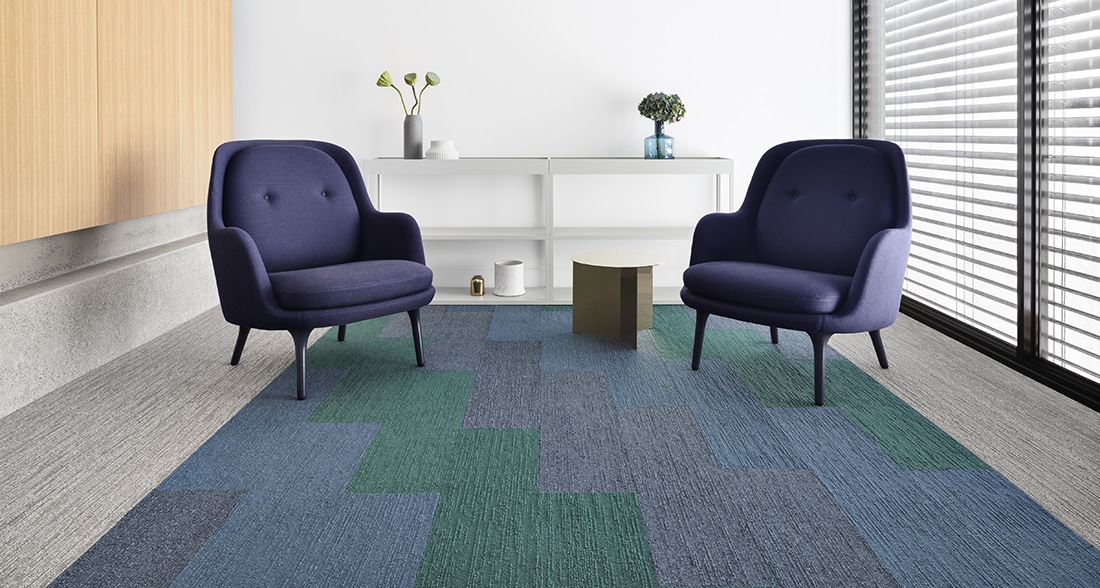 Creating the 'resimercial' vibe with our Norse carpet tiles
Key considerations for future workplace design
It's not going to be about the new workstation shape, the hottest fabric, the coolest colour-blocking, or the latest archetype shaped work-pod. It will instead be asking 'what does this workplace say about us, and how does it promote and enable our strategic vision?' So, post-COVID, businesses need to first define their vision confidently, map out a strategy and work with designers to weave that into a physical built environment. The key role of the designer here is to define the intended experience. They'll need to do this keenly and empathetically, utilising briefing, research and data, and then have the creativity and technical understanding to realise this in a tangible form. So, in some ways, workplace design is, and will be, more about 'experience design'.
Design strategies that accommodate our changed behaviours and expectations
Workplace behaviours and expectations are continually evolving as a result of COVID, which are being reflected in workplace design strategies across all industries.  Moving forward, flexibility will continue to play an integral role in design. This is largely to accommodate the new working models and differing needs of organisations across factors such as health and wellbeing, technology, customer engagement and corporate brand and culture.  Any current design strategies that try to accommodate these, are speculative at this stage. However, life, construction, and design, as they say, goes on. So, to close the loop on the first response, accounting for the uncertainty by going 'tried and tested', or 'flexible and broad-reaching is probably the best we can hope for. Unless designers and strategists can tap into a confident and culture-rich business vision.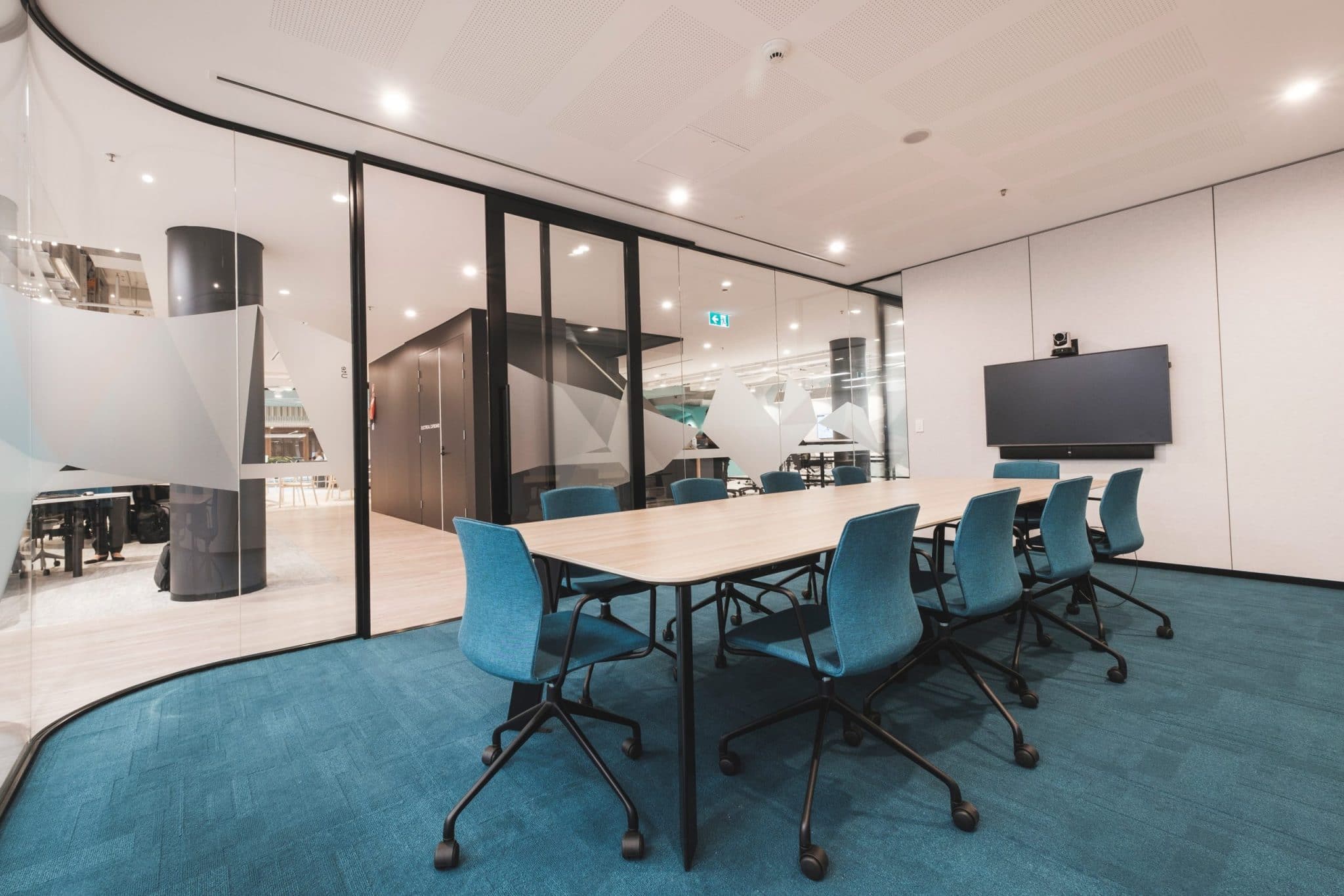 Endeavour Energy Workplace by WMK Architecture. Flooring: Vivid Carpet Tiles Photography: Raw Life Studios
The role of floor coverings in supporting some of these employee and business goals
Flooring is the ground beneath our feet! We have used commercial floor coverings and finishes as a conceptual material starting point when embarking on the translation from theoretical, abstract information to a direction in materiality. So, it can play a critical role, not just in conceptual translation, but also in functional and notional space definition. Additionally, wayfinding, acoustics, comfort levels, economics, maintenance, even diversity and equitable access. Not to mention, compliance. Imagine the difference between entering the physical manifestation of a business's brand and culture and finding highly polished and heavily figured Italian marble; to a rustic recycled timber plank; a custom print carpet; an austere minimal epoxy; or an industrial polished concrete. It's a pivotal decision in this translation. And, while it isn't the loudest voice in the user experience dialogue, it is certainly one of the most omnipresent.
Design workspaces that accommodate these changing trends. Explore durable flooring choices like carpet tiles, luxury vinyl plank flooring, woven vinyl tiles or custom carpets.