Flooring Design Choices in the Post Pandemic Workplace
Well-being, safety and flexibility has emerged as the new normal in the post-Covid world. As the workforce slowly plans a phased return to the office, we explore flooring design choices to help achieve these goals.
One of the most significant ways we've adapted during the current global pandemic is in the way we work. And, with the workforce evolving so rapidly – office design needs to follow suit.  In fact, a Nelson Worldwide study found that reassuring, safe and secure workspaces would help people get excited about returning to the office. What's more, 83% of the study's respondents rated physical safety measures as extremely to very important.
Given this scenario, flooring could play a valuable role in office design while also supporting the psychological and environmental health of the workforce. As flooring connects spaces and people, it could serve as the medium to guide them safely through the built environment.
#1 Delineate spaces with activity zones
After months spent working in isolation, the workplace offers an opportunity to create safe yet sociable spaces. Especially, for collaboration, creativity and a feeling of culture and community. Flooring plays a critical role here, in encouraging movement by creating activity zones.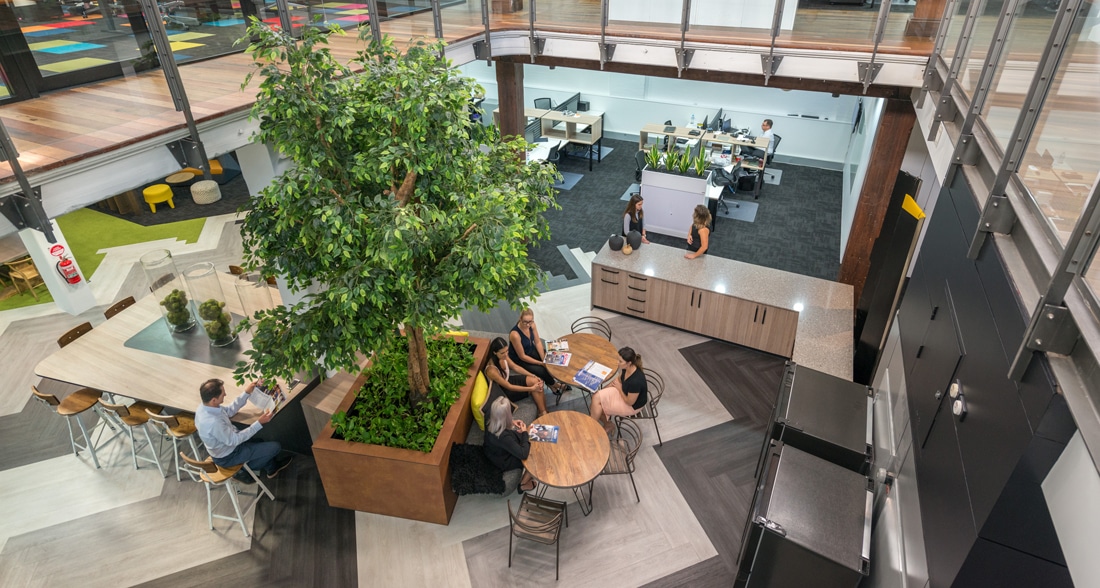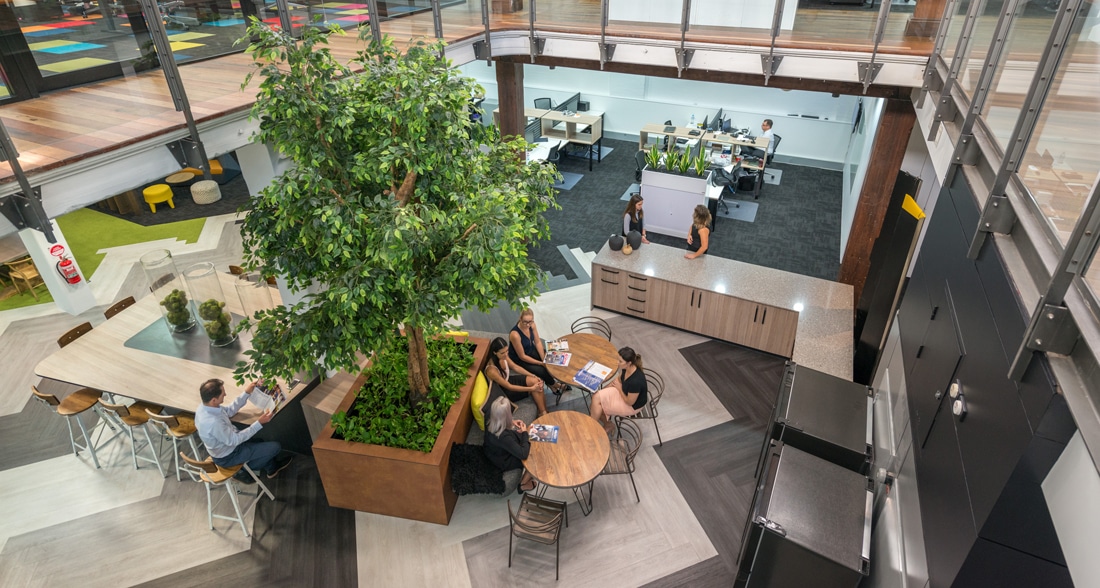 Photo: ShadowLight Studio Designer: Harry Poulos Architects Location: LifeFlight
In the LifeFlight workplace, for instance, Harry Poulos Architects used our vinyl planks to infuse personality into the breakout space. What's more, it works to differentiate from the calming work area. This choice of flooring makes great design sense, as resilient flooring is ideally suited in a space with more foot traffic and activity.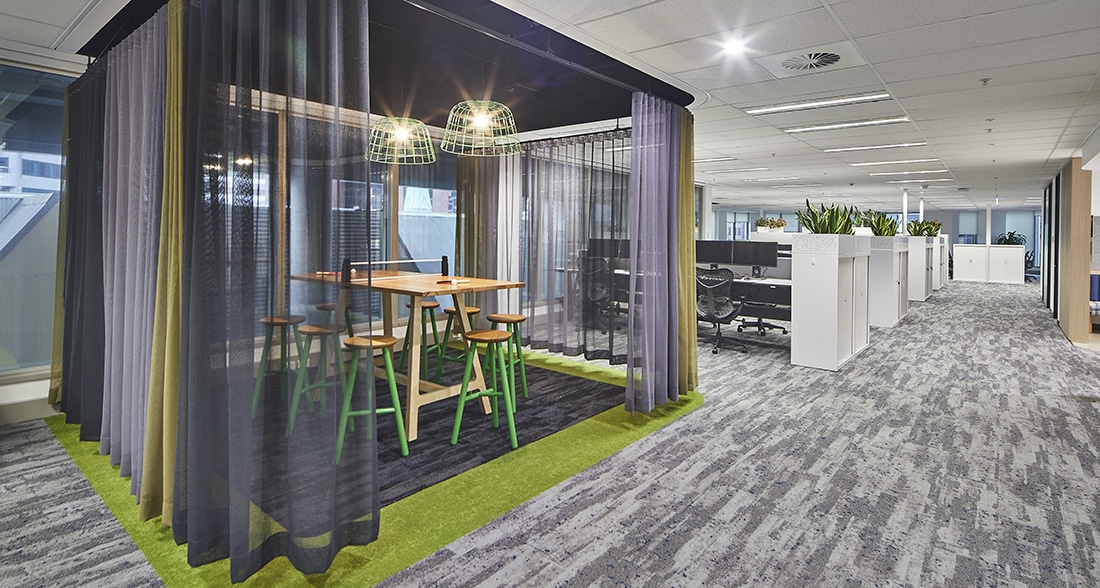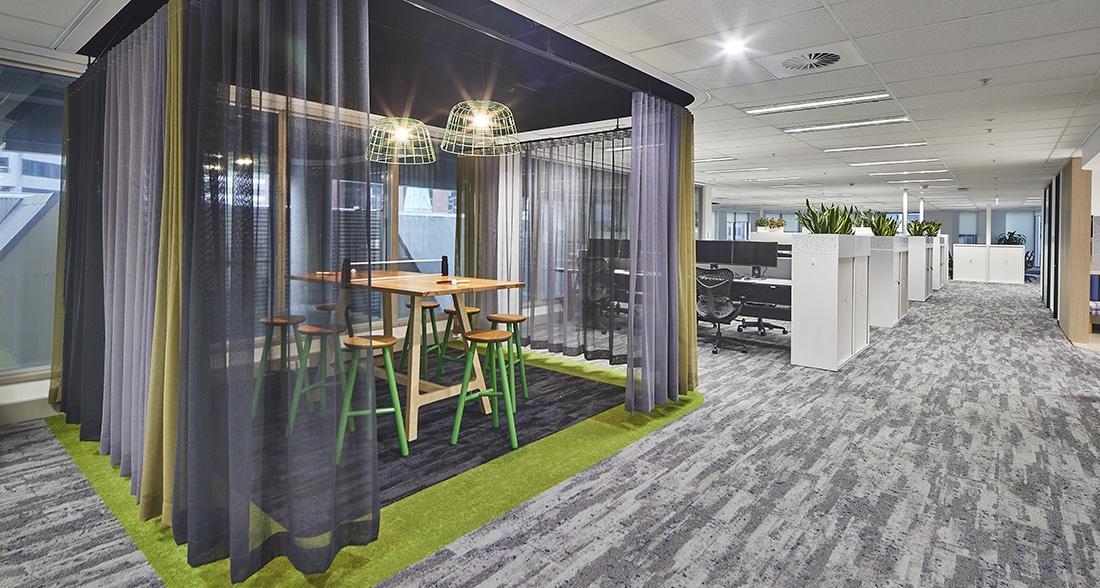 Photo: Tyrone Branigan Designer: Hot Black Location: OpenText, Sydney
Similarly, in OpenText's open-plan workspace in North Sydney, Hot Black used our Botanica Planks to separate the quiet collaboration area from the work area. They've also introduced sheer curtains for additional privacy.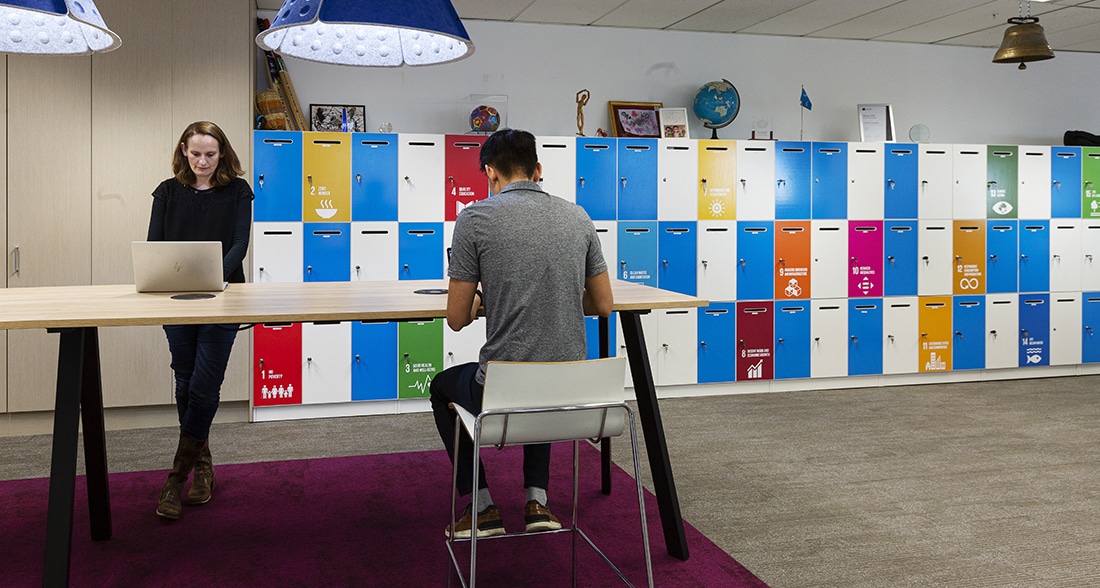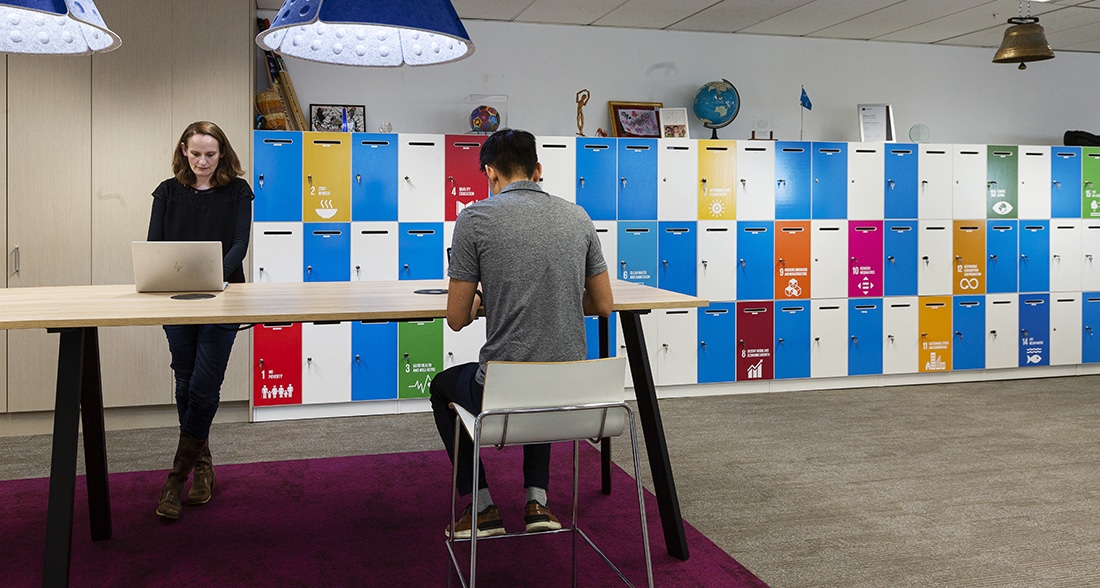 Photo: Richard Whitbread Designer: Amicus Location: UNICEF, Sydney
Warmer, bolder colours are psychologically stimulating and conducive to encouraging collaboration. In yet another successful example of zoning with flooring, Amicus has created a cross-functional collaboration work area in the UNICEF Australia workplace using rug inserts of Pixel's Static carpet tiles on Groove planks.
Our tip: Create activity zones using a combination of different surface materials, colours, patterns and textures.
#2 Direct traffic with wayfinding
Directional guidance or wayfinding with flooring is an exciting possibility to help people navigate with a sense of safety and security.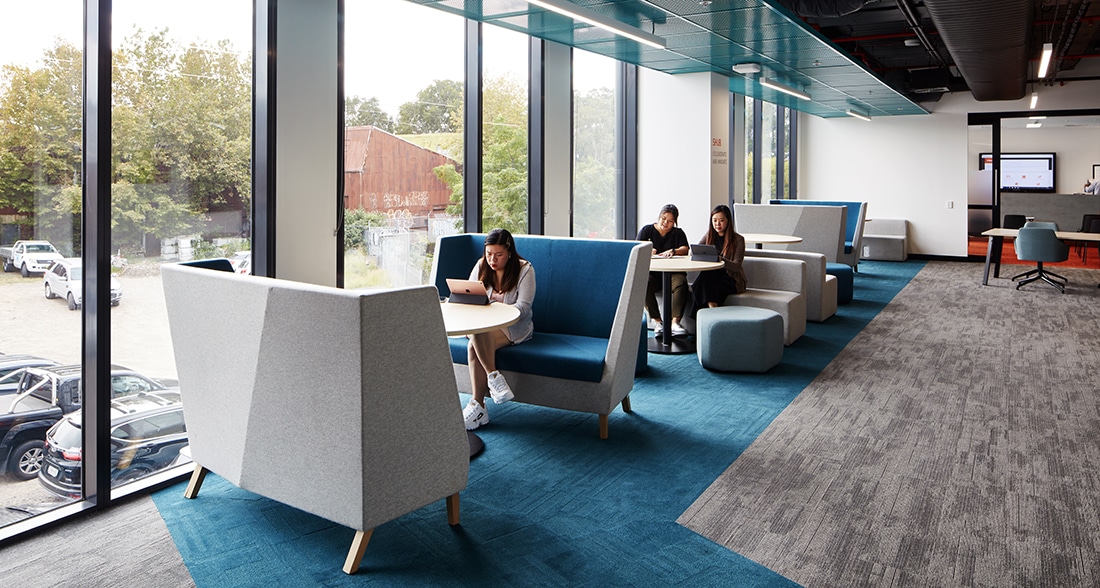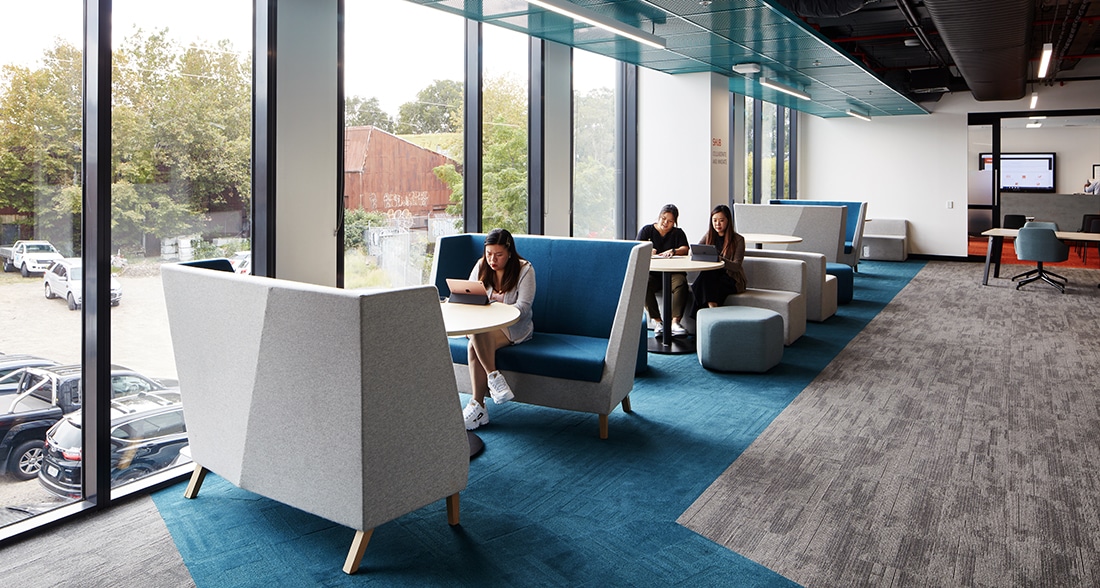 Photo: Luc Remond Designer: Gray Puksand Location: William Angliss Institute Sydney
We love how Gray Puksand used our Groove planks to help users navigate multiple areas within William Angliss Institute Sydney. The textured and neutral flooring choices provide directional cues. And, when used in conjunction with the bright Vivid tiles – they allow for efficient zoning.
In much the same way, Fusion, has a textured directional design pattern in its three plank variants, allowing multiple layout opportunities and a unified flow between spaces. In the Deakin University building, Fusion's Core and Connect planks help create a seamless transition between the work area and breakout spaces.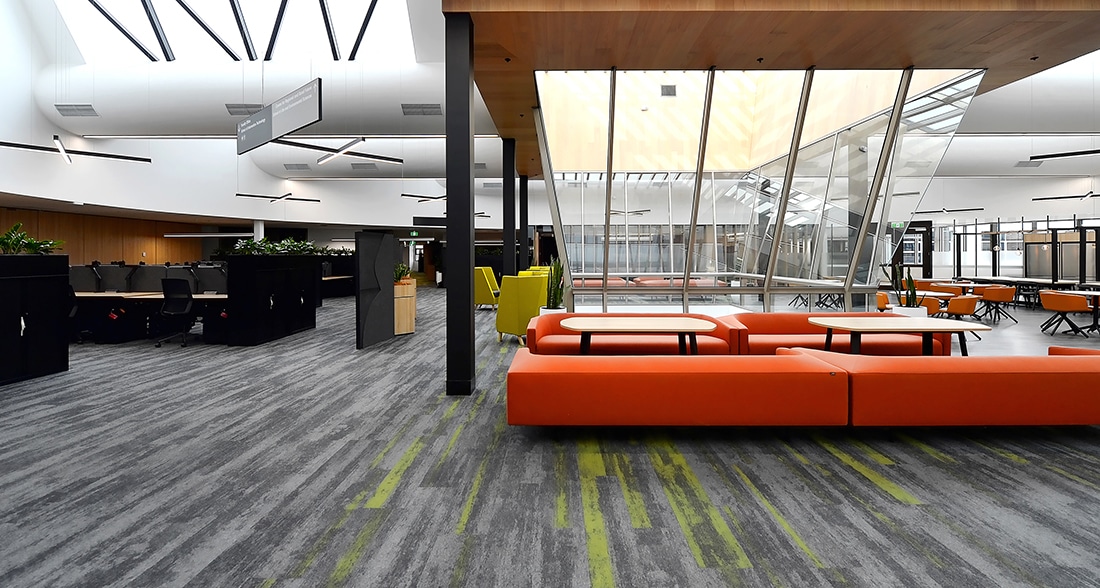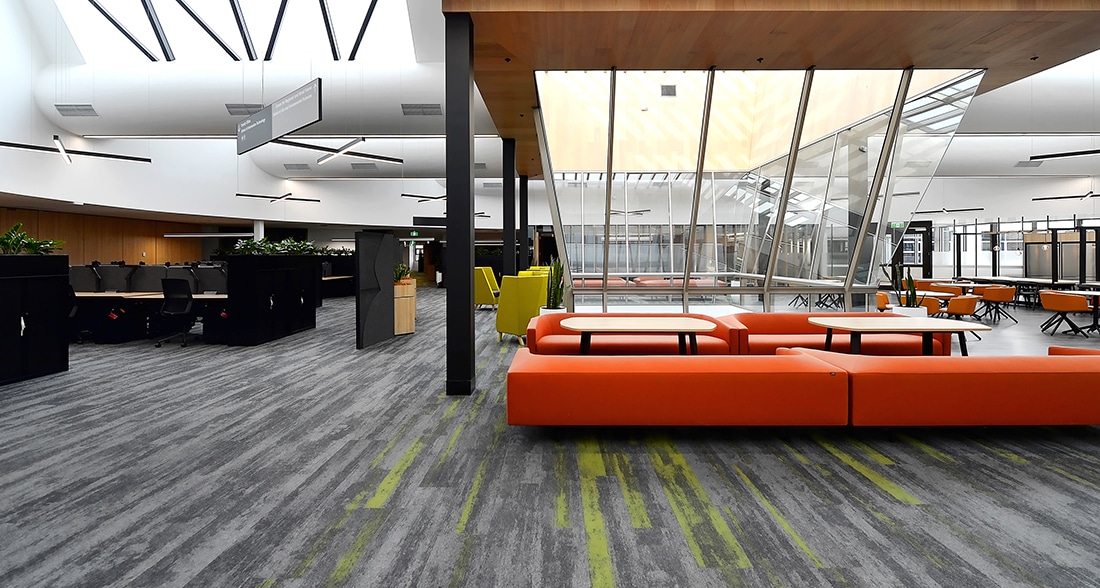 Photo: Kane Jarrod Designer: H20 Architects Location: Deakin University Melbourne
These carpet tiles also complement our vinyl plank ranges, making them ideal for laying in high-traffic spaces like corridors and passages.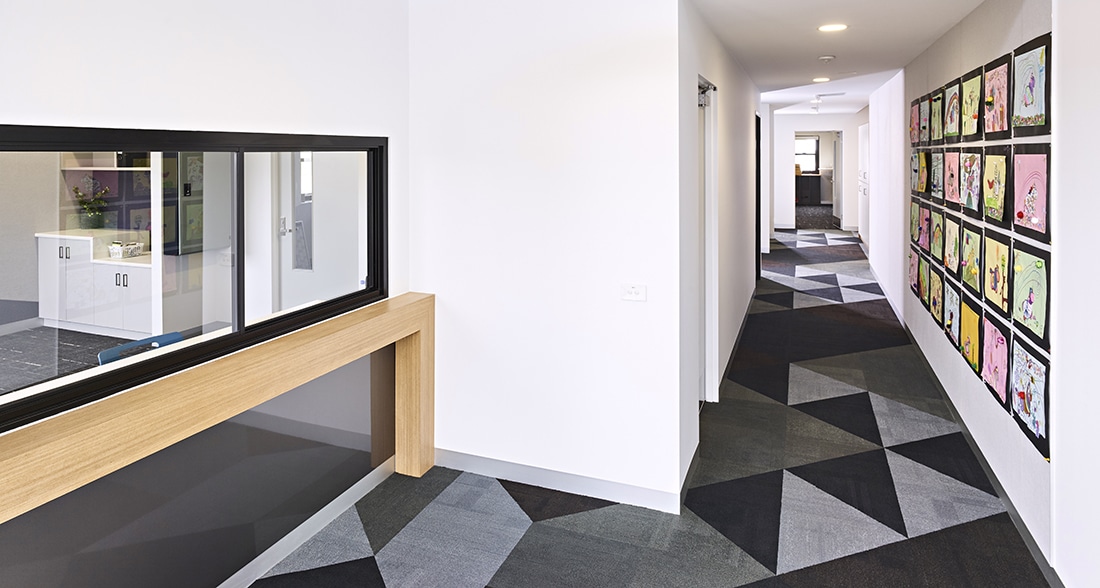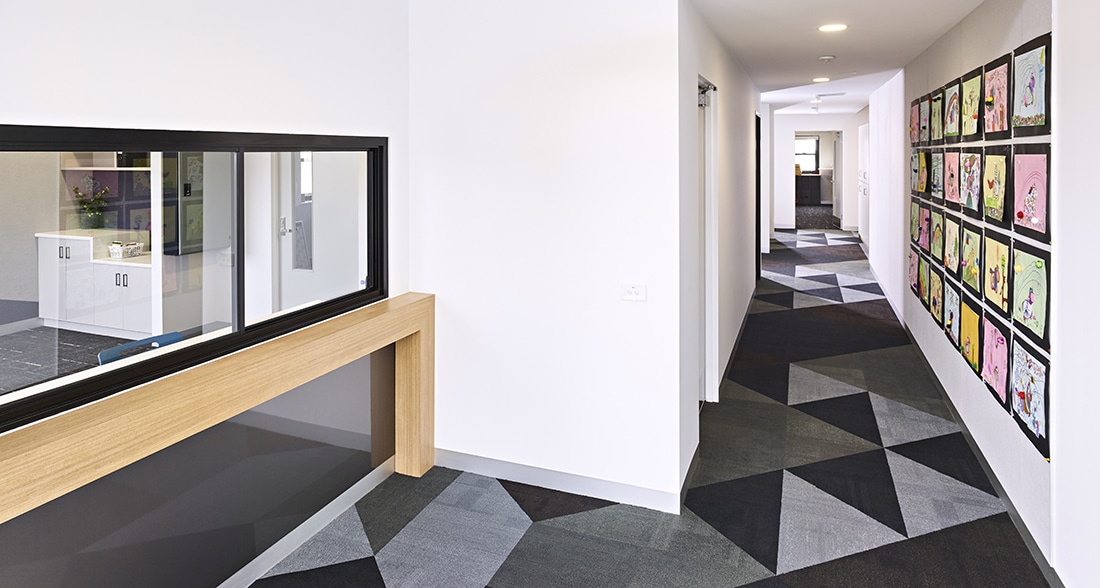 Photo: Kristian Gehradte and Merlyn Reuter Designer: Foresight Architects Location: Narrawong Primary School
Using geometric patterns in flooring could be yet another way to efficiently direct traffic. Notice how shapes help lead the way in the Narrawong primary school corridor.
Our tip: Use colours in your flooring choices for wayfinding.  Gradient colours, for instance, create pathways that people are likely to follow. Alternatively, use shapes to create arrows on the floor and direct staff through transitional areas.
#3 Create the comfort of home in the office
An oasis of calm and safety – the home has been instrumental in keeping us going through what has been a rather anxiety-ridden time. Now, with the workforce slowly returning to the office – designers will need to think about ways of factoring in the home's calming reassurances to help modern workplaces feel less stark. This is the guiding principle of resimercial design, which is likely to remain prominent in the coming years. Think comfortable upholstered furniture, ambient lighting, not to mention flexible and soft flooring to drive a deep sense of comfort.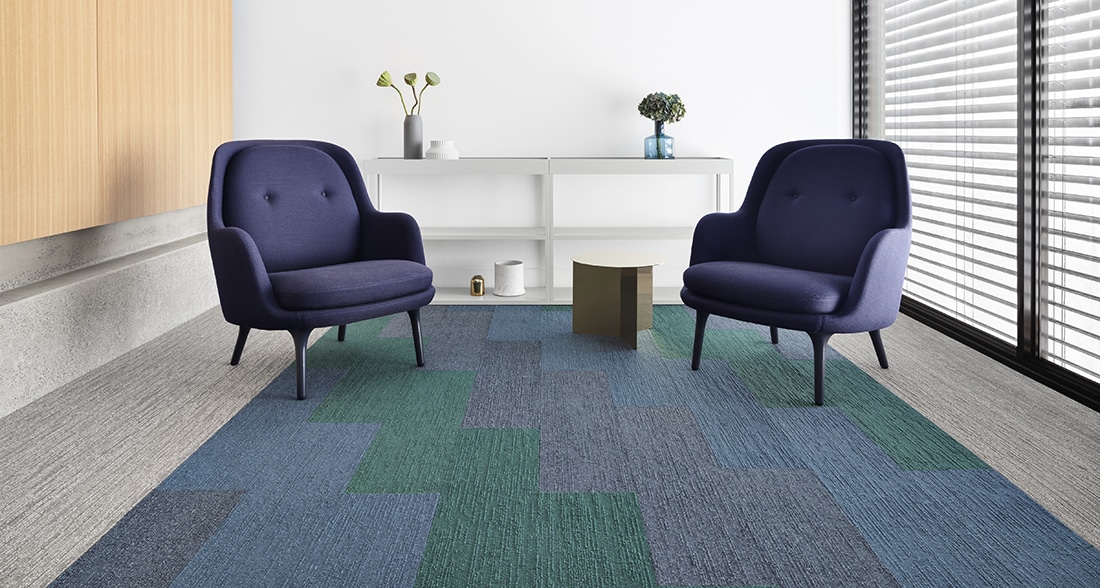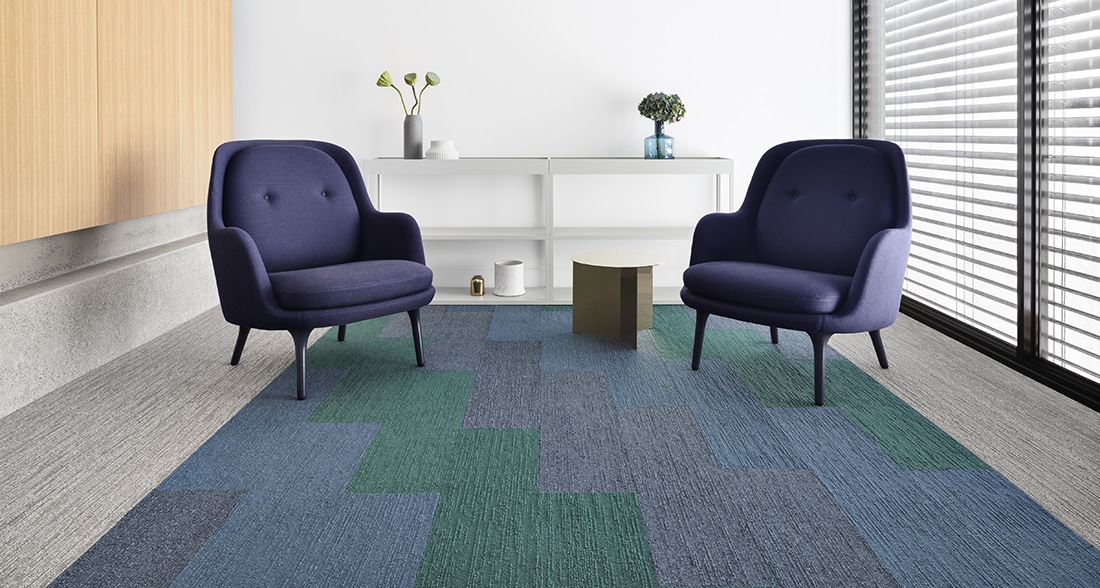 Collection: Oslo Planks – Norse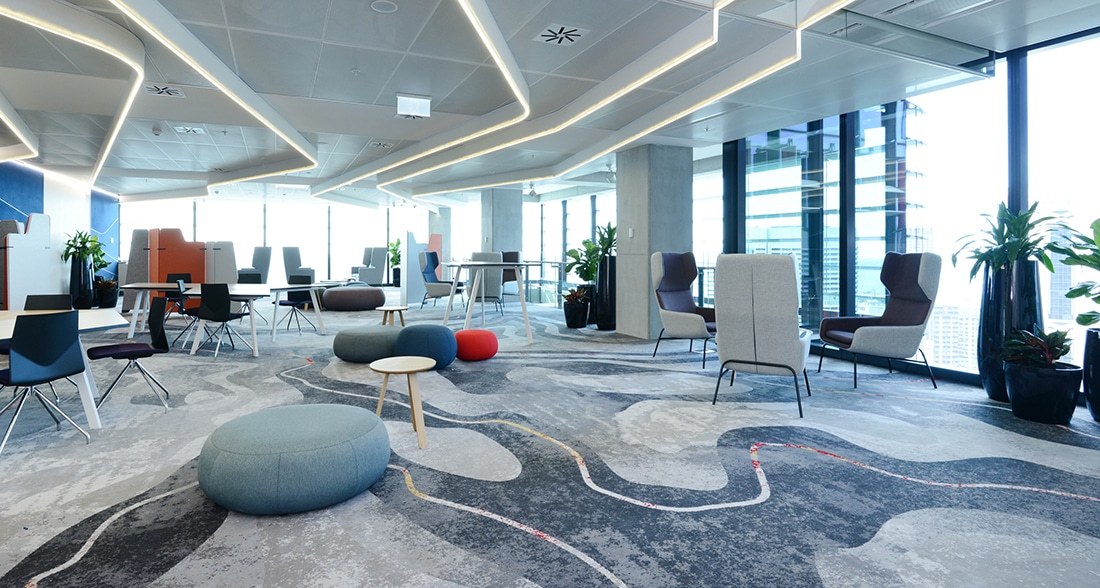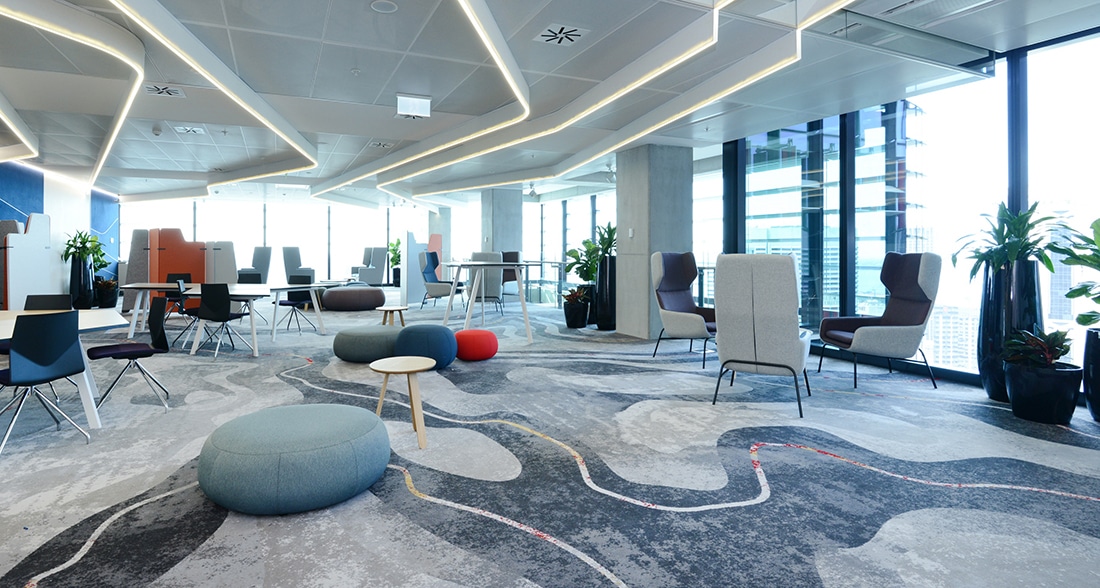 Designer: Siren Design Location: ICBC Bank, Barangaroo Sydney
In a 2016 study, carpets were found to induce lower stress levels in comparison to hard flooring like wood. With an 80% wool and 20% nylon composition, custom woven carpets offer a unique combination of design creativity and comfort. With yarn interwoven into the backing – the carpets look and feel ultra-plush. Hand-tufted area rugs are also an excellent solution for those looking to soften a stark workplace.
Our tip: Create a relaxed working atmosphere using a variety of textures and fibres in your flooring design. This can take workspaces from harsh to comfortable in no time.
#4 Deliver healthier work environments
In light of this global pandemic – there is an added emphasis on building materials that are not only hygienic and easy to clean but those that also help boost indoor air quality. In this instance, careful specification of flooring products can go the mile in promoting employee health, wellbeing and productivity.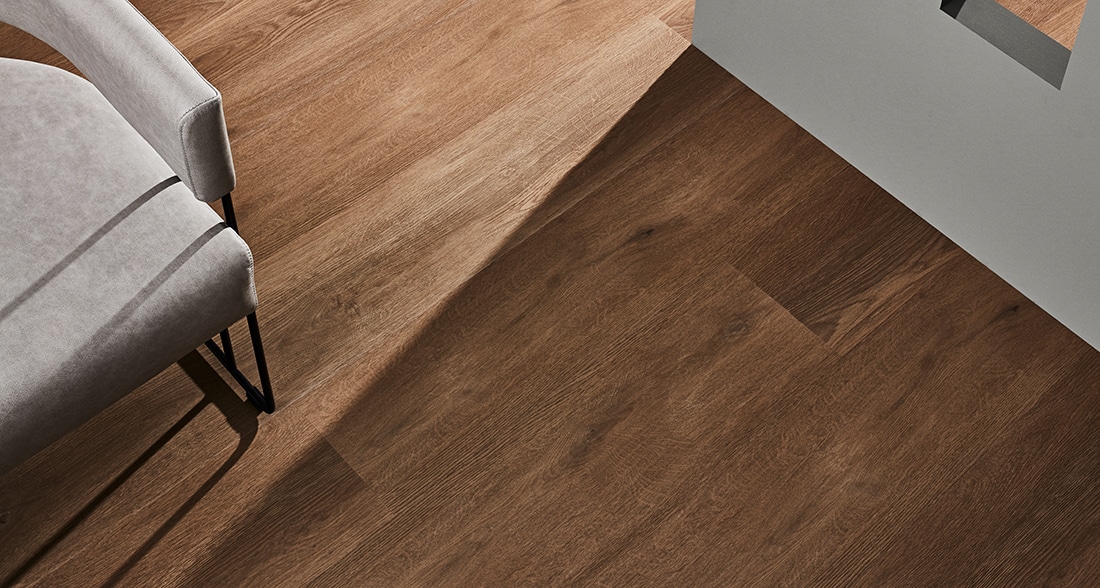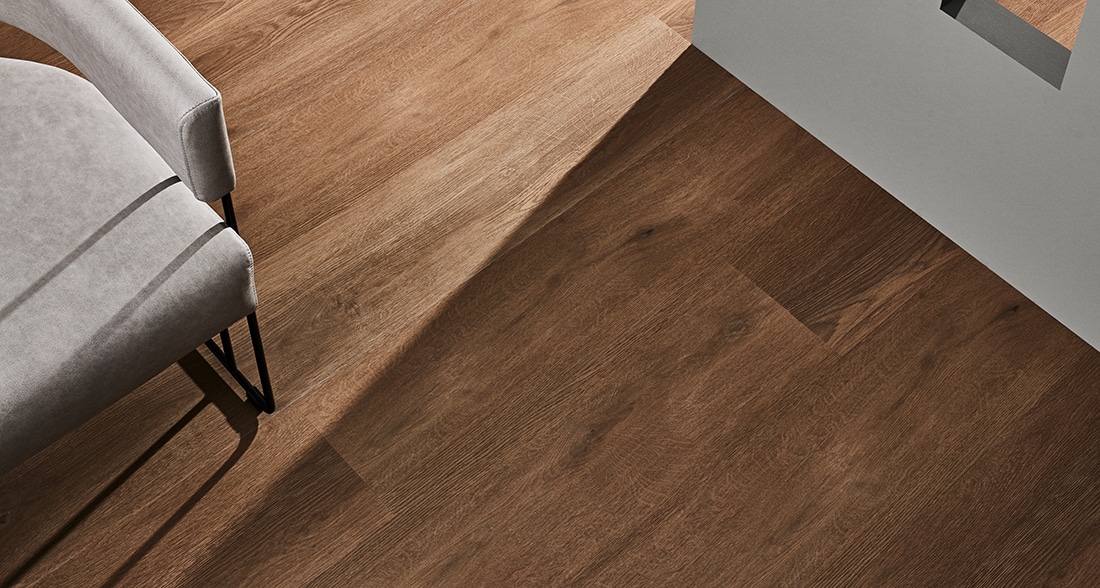 Collection: 88 Planks
Resilient flooring options like woven vinyl tiles, vinyl planks, or sheet vinyl, for instance – offer easy-to-clean, low-maintenance and spill-proof solutions. They are also conducive to increased cleaning schedules of workplaces, making them hygienic options. Carpet tiles and vinyl planks come with Green Rate Level A Certifications by Global GreenTag and Declare Labels – making them sustainable choices.
For us at Signature, human experience is at the core of our design process. And with colour so intrinsically tied to how people feel within a space – our extensive portfolio of coloured flooring offers fit-for-purpose solutions for wayfinding, zoning, emotional comfort and hygiene in the workplace.
Learn more about creating adaptive workplaces in a post COVID world.